In case you missed this doozy last week…all we gotta say is damn (via Chicago Tribune):
Drivers, be patient, and find alternate routes if you can. Work on the Jane Byrne Interchange will go on for another four years.
That's the word from the Illinois Department of Transportation, which has been rebuilding what used to be known as the Circle Interchange or, informally, the "spaghetti bowl," since 2014. The finish date for the project had originally been projected at 2019. IDOT now expects it to be complete in 2022.

IDOT engineers warn that the biggest impact to traffic is coming in the summer of 2020, when a major ramp will need to be closed. This is the ramp from the inbound Eisenhower Expressway to the northbound Kennedy Expressway, which sees 26,000 cars a day.

Why is the project taking so long? It involves three different interstates, a constricted urban area, working around the CTA Blue Line, multiple bridges, a city water pumping station and the need to keep traffic flowing in a spot that sees 400,000 vehicles every day, said Steve Travia, engineer for project implementation at IDOT.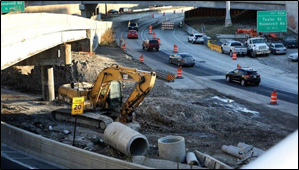 http://www.sloopin.com