Meet the Editors
The Dearborn Express is strictly a nonprofit effort.  We are sponsored by the South Loop Referral group, a networking group of small businesses.  We hope to support local businesses, organizations and to provide local breaking news: South Loop Neighbors, Bonnie's blog, Beth's blog, Mike's blog, Maryanne's blog, Newcity, Columbia College, Real Estate Listings and transactions, Book Reviews, and a Police blotter.  We publish 16 times a year.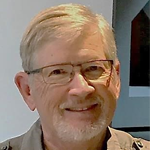 Al Hippensteel
Photo Credit: Regan Burke
Founder & Editor
Al has a background in newspapers and printing.  Now retired, he is active in community organizations in Oak Park, South Loop, and South Haven, Michigan.
Janice Koerber
Assistant Editor
A long-time Printers Row resident with several successful entrepreneurial stints in her repertoire, Janice Koerber is proud to hold the title as longest-serving member of the South Loop Referral Group.